Flumood, the innovative composite material patented by Antonio Lupi.
After Corian, Cristalplant and Ceramilux, antoniolupi has created a new composite material: Flumood.
Let's clarify what a composite material is:
A composite material is a material consisting of a mixture of components that, as a whole, has better characteristics than the individual ingredients that make it up. The formula for the new material is customized according to the use to be made of the material in order to meet particular requirements once it has been laid.
Typically, each composite material consists of:
a matrix, a mixture that guarantees the bonding of the reinforcement and protects it, a sort of shell
a reinforcement which is dispersed in the matrix and has the task of giving rigidity and mechanical resistance.
In particular, the Flumood solid surface is made through the combination of aluminium hydroxide and synthetic resins, a combination that makes the final result technically and aesthetically performing.
Features:
- Resistant to chemicals;
- Ecological;
- Antibacterial;
- Stain-proof, as it is non-porous and therefore does not allow dirt to penetrate through the surface;
- Fireproof;
- Water-repellent;
- Repairable, through sanding in case of scratches;
- Customisable in two surface finishes: Satin finish, extremely smooth and pleasant to the touch, or Texture finish, rougher and more structured with a stone effect;
- Green, a key feature today.
These elements make Flumood ideal for designers and architects who have the chance to express their creativity in line with the requirements of beauty and functionality of the bathroom furnishing product to which Antonio Lupi has dedicated his attention.
Methods of use:
Thanks to the ductility and malleability of this material, antoniolupi uses it to design washbasins, tops, bathtubs and furnishing accessories of the most varied shapes and sizes as well as the possibility to have it with external embossing in the colours of the Antonio Lupi palette.
Let's discover some applications of this particular material:
MASTELLO:
A freestanding bathtub of only 135 cm that ensures comfort even for people who are 195 cm tall. Elegant and ergonomic, as described by the brand itself, it becomes a "place" that is the very centre of the scene.
Dimensions: 135 x 75 x 87 cm
Design by Mario Ferrarini.
PODIO: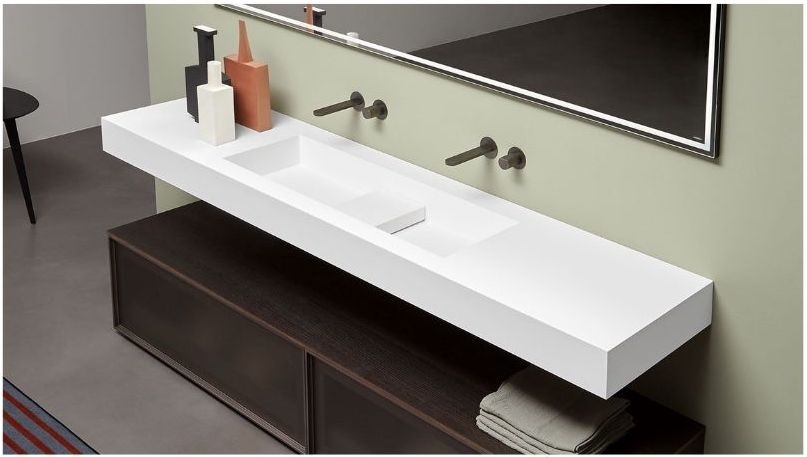 This fascinating washbasin integrated in the top presents a very capacious basin and has the peculiarity of being able to be divided by a shelf. In this way you can decide whether to use it as a single or double washbasin.
Available in both Satin and Texture finishes,
Dimensions: from 108 cm to 272,4 cm
Design by Nevio Tellatin.
AGO 3: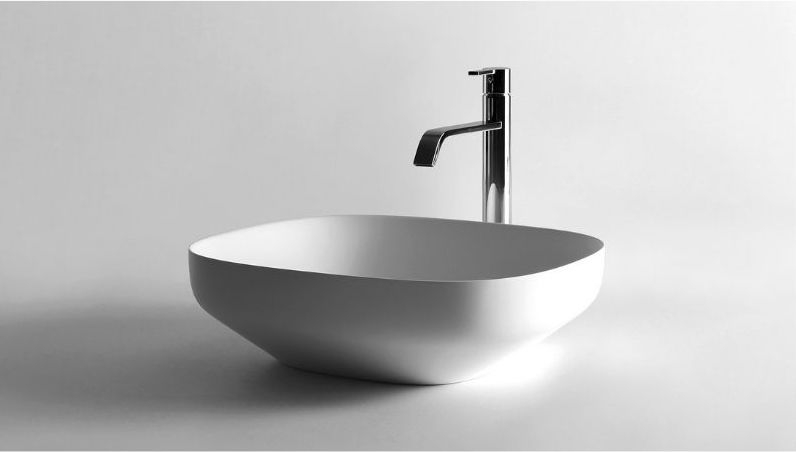 This particular collection exploits the potential of Flumood. Creating soft shapes despite a reduced thickness and a clear capacity and depth, Ago is a modern countertop washbasin that makes it ideal to fit into a modern and minimalist bathroom environment.
Available in Satin finish. Possibility of external painting.
Dimensions: cm 50 x 45 x 15
Design by Mario Ferrarini.
FUSTO:
 A freestanding washbasin with a square shape and a towel bar runs along both sides of the basin. Available in white and in all the antoniolupi colours.
Available in Satin finish. Available in Satin finish.
Dimensions: 45 x 35 x 85 cm
Design by Nevio Tellavin.
REFLEXMOOD: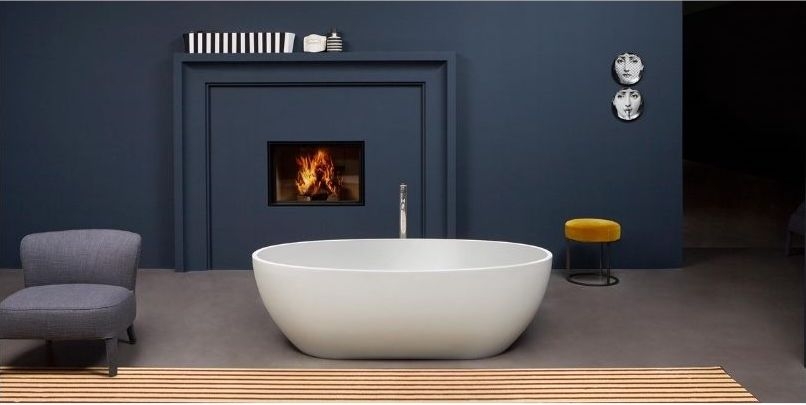 Reflexmood is the first bathtub made of Flumood. With its oval shape and pure lines, its marked depth allows those who use it to enjoy maximum relaxation. Another special feature is the extremely pleasant feel of the surface.
Available in Satin finish. Possibility of external finish.
Dimensions: 167 x 86 x H 53 cm
Design by Design AL Studio.
Are you interested in one of these antoniolupi items?